I've always loved Ray with a very sincere and passionate love, but it felt for a bit as though we had "lost that lovin' feeling." I suppose it could have been the fact that I was either pregnant or nursing for the majority of the first eight years of our mariage. Or, perhaps, it was stress over finances and the cares of running a household of so many. I suspect, though, that it was as simple as taking each other for granted and losing sight of why we fell in love so many years ago.
Falling in love again with your spouse is definitely possible. Ray and I are proof. Recently there was a major shift in our relationship. We, once again, feel like giddy newlyweds and are often mistaken for such when we're out on our bi-monthly dates. I believe it's because we've made each other a priority, we take time for meaningful conversations, and we've just plain relaxed.
What else?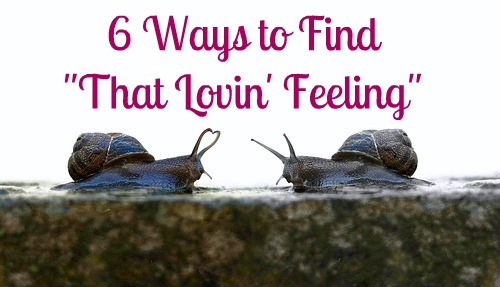 • Texting – When I receive a quick "thinking about you" or "i love you" text from Ray it immediately brings a smile to my face. This simple act can go a long way to let your spouse know that you care. It's fun to get creative with your messages, too!
• Handwritten love notes – Before the age of iMessage, email and Facebook, Ray and I got to know each other through hand-written letters. Now, many years later, little notes, sometimes scrawled out in a hurry, brings back those warm memories of young love.
• "Parking" dates – It's easy to get in a rut on date nights. A friend, just the other day, recommended ordering fast food and finding a great place to "park." With the music turned down low, just go with the flow and relax together.
• Going away together – Ray and I are big believers in taking time away to focus on each other. In addition to our regular date nights, we try to go away for a night or two at least once a month. This mini-vacation restores intimacy and proves to each other that our marriage is a priority. It also shows our children know that we  value alone time.
• Quickies – I know what you are thinking, but I am referring to just a quick phone call, a brief visit to the office, or just a quiet time out in the evening to focus on each other. It doesn't have to be long, but proving to each other that nothing is more important is so necessary for a healthy marriage.
• Reminiscing – I recently sat for hours and looked through old letters, cards, and photos from early in our marriage. Seeing our raw emotions and feelings expressed in words brought back that warm feeling of joy and happiness. Reminiscing together about your firsts as a couple is sure to spark some pleasant conversations.
How do you and your spouse keep the spark alive in your marriage?
photo credit: Adam Foster | Codefor via photopin cc, text added