It's Spring Break in our neck o' the woods, which means we have been looking for fun things to do, in and out of the house. We've all spent time with friends, some of us have been to the aquarium, others have been to Six Flags, and there has been lots of rollerblading, biking, and bubble blowing.
Today, we spent some time at home, as the weather took a huge turn from beautiful and sunny to overcast and dreary. I found some fun and easy activities to do with the younger kids, but ended up putting Julia to work making some homemade fruit gummies with them.
Inspired by a recipe on the Juicy Juice website, these are incredibly easy to make and they taste so much better than the sugary snacks you can buy at the store. What made them even more fun was that we made them in the shape of bunnies for Easter, but you could make them any shape, any time of the year, of course!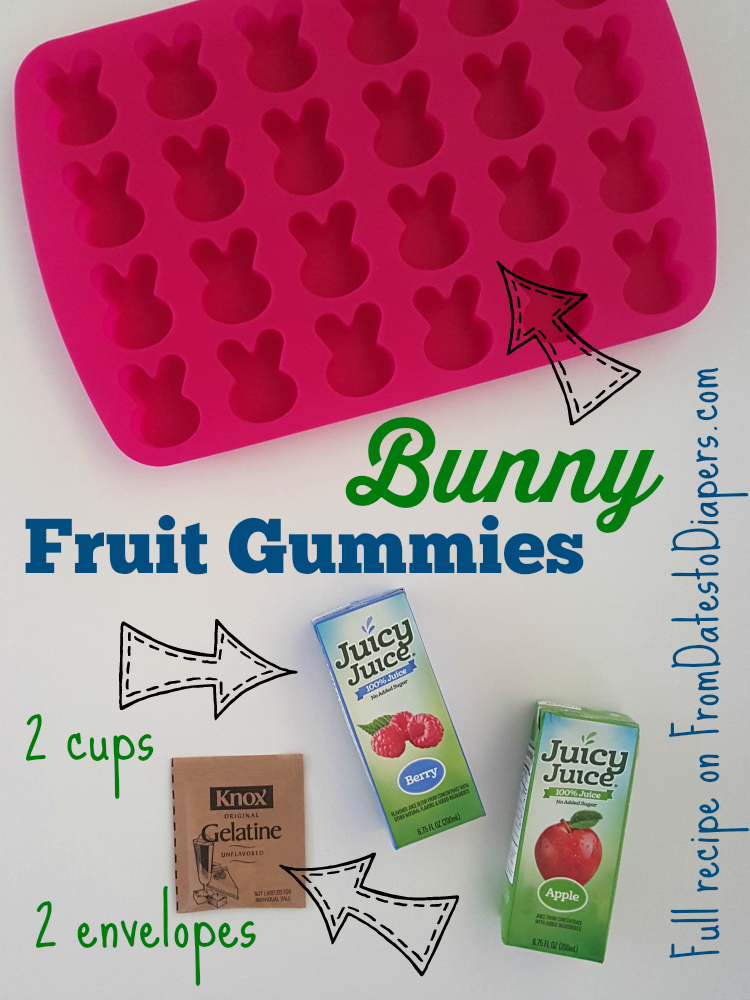 What you need:
silicone trays – we found our bunny tray at Walmart in the seasonal section
2 cups Juicy Juice® 100% juice – we used berry and apple
2 envelopes unflavored gelatin – you can buy a package of Knox gelatin that includes 4 envelopes
What you do:
Bring 1 cup Juicy Juice® to a boil in medium saucepan. Remove from heat. Stir in gelatin until completely dissolved. Add remaining 1 cup Juicy Juice® into hot mixture and stir well. Pour into your silicone heart-shaped tray.
Refrigerate for 2 hours, or until firm. Dip bottom of silicone tray in warm water for about 10 seconds and carefully lift heart shapes from mold by pushing from the back of the tray.
Disclosure: I am a member of the Juicy Juice Crew and have been compensated for the publication of this post. All thoughts and opinions are mine.